April is National Child Abuse Prevention Month!
April 1, 2017 @ 12:00 am

-

April 30, 2017 @ 11:55 pm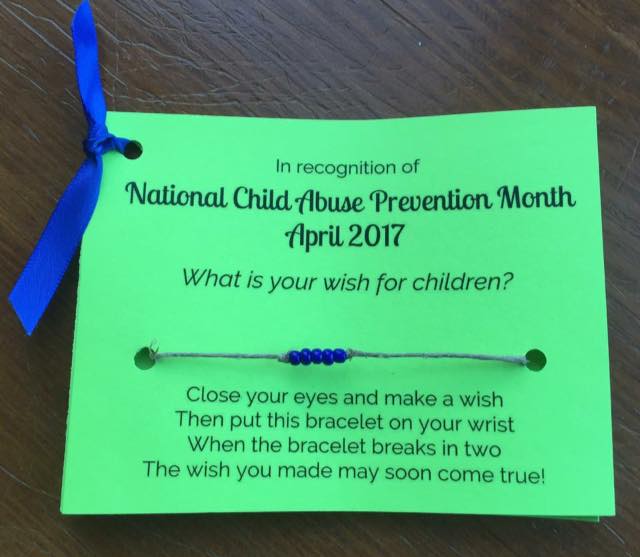 Please support us during Child Abuse Prevention month by wearing a blue beaded wish bracelet created and donated by Whimzies.  To receive your wish bracelet, contact us at (716) 822-0919, email us at info@familyhelpcenter.net or post your request on our Facebook page https://www.facebook.com/FHCFamilyHelpCenter and we will mail you the number of bracelets requested.  We ask that you consider a $5 donation for each wish bracelet.  When you receive your bracelet, please complete "My wish for children is" on the card included and return it to us at Family Help Center (60 Dingens Street, Buffalo, NY 14206).  All wishes will be laminated and hung on a community fence outside of the Family Help Center.  
Wish bracelets will also be available at the following:
Adam's Apples' stand at the Broadway Market. Visit their website at https://www.adamsapplesny.com or their Facebook page at https://www.facebook.com/Adams-Apples-110240129050429/
Baker Victory School
Child Care Resource Network, 1000 Hertel Avenue, Buffalo, NY, 716-877-6666  (http://www.wnychildren.org) 
Crisis Services, 2969 Main Street, Buffalo, NY  14214, 716-834-2310  (http://crisisservices.org)
Every Person Influences Children (EPIC), 1000 Main Street, Buffalo, NY  14202, 716-332-4100  (https://www.epicforchildren.org)
Fit Physique, 2827 Delaware Avenue, Kenmore, NY  14217, 716-877-1105   (http://www.thefitphysique.net)
Larkinville – Food Truck Tuesday
Phillips Lytle LLP, 125 Main Street, Buffalo, NY 14203, 716-847-8400   (www.phillipslytle.com) 
Walden Galleria Mall on Saturday, April 8th, from 11 AM to 5 PM.
Western New York Foster and Adoptive Families Association has generously offered to hold the kick off sale during their annual spring training on Saturday, April 1st, at Renovation Auditorium, 567 Hertel Avenue, Buffalo, NY 14207 from 9 AM to 1 PM. Details about the training are available by contacting (716) 858-1630 or wnyfafa@gmail.com
All proceeds will benefit the Family Help Center in our mission to provide free support to families and safety to children when parenting gets tough, 24 hours, 7 days a week.  Thank you for your support!  Please remember our most vulnerable children!